OUTPUT.DD
Exhibiting the Faculty of Computer Science

Once a year the results of research and teaching of students and staff are presented to the public. Visitors can expect installations, workshops, talks, presentations and demos to discovery, explore and experience. Besides that, OUTPUT.DD offerns the opportunity to get in touch with local companies about exiting research topics. Get excited by the broad spectrum of computer science!

OUTPUT is an open event. We welcome all interested guests, students and staff!
OUTPUT
Live
A fair of work by students and staff of Dresdens Comp Sci and offers hands on IT.
Projects
OUTPUT
Academic
Opening, Reward of extraordinary work as well as a keynote with a new perspective on the field of IT.
Program
OUTPUT
Contact
The presence of local companies enables and encourages the communication between visitors and colleagues.
Sponsors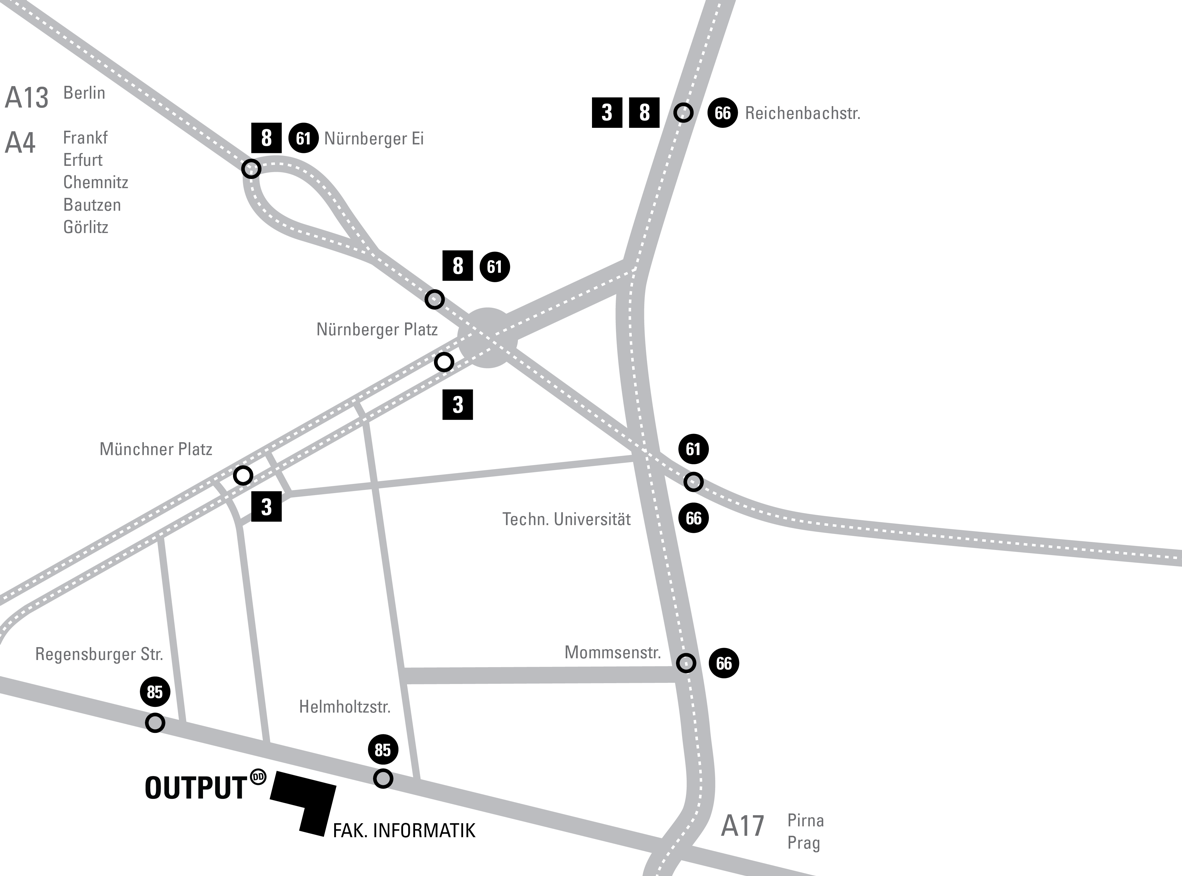 Faculty Computer Science at Technische Universität Dresden
Six decades of experience in research and teaching and its international orientation shape the biggest educational institution for computer science in Saxony. The faculty covers the whole range of IT and offers in twelve courses of study a research orientated and practical education with high standards. Its research serves the development of new technologies of the future: Internet of Things, Cloud Computing, Data Security, Big Data and Interactive Visual Computing stand exemplary for many research domains, giving new impulses to the theory.
OUTPUT App
The app offers information around OUTPUT.DD. It offers an overview of all events and projects exhibited and links them to the respective event location in the building.

In the integrated game, visitors can collect points at every project or contact and compete in a ranking. The first five places get attractive prices with a combined value of 500 EURO.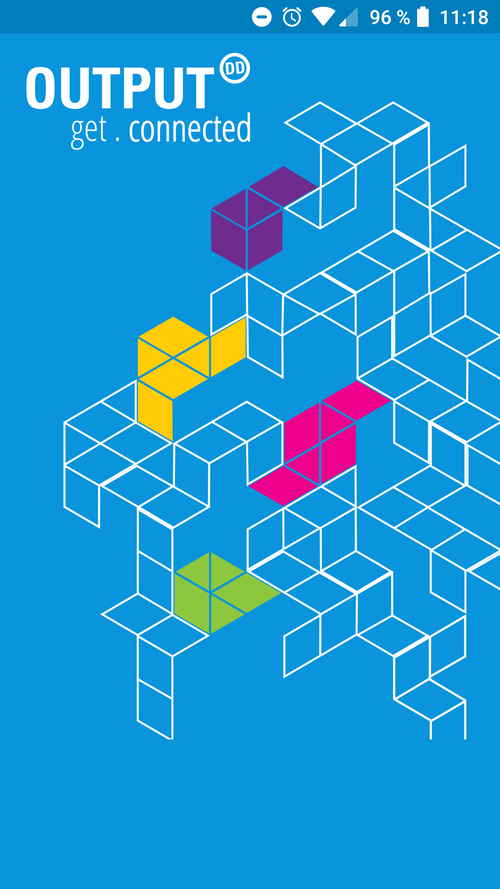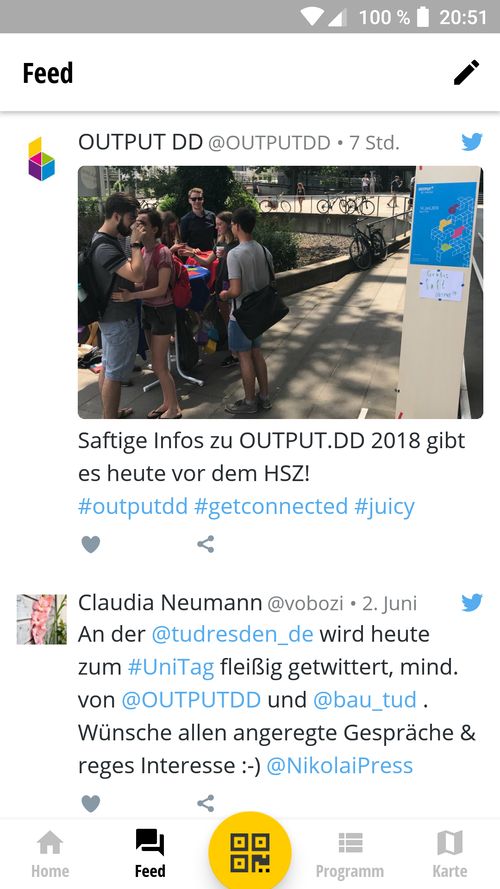 As as visitor
Company's stands, demos, workshops and talks have the opportunity to reward the visitor for his interest. As reward there is a QR-Code, which the game participant can scan, when the task is solved.

The game itself runs as follows: The visitors choose an avatar and a team who they associate with. With those, they pass through the studies of a beginner, a bachelor and a master up until the doctorand. With the active participation at OUTPUT points can be collected. The five best players win a price. Additionally, players can level up multiple times when they reach a certain amount of points. Reaching level 2 grants a surprise gift at the information point.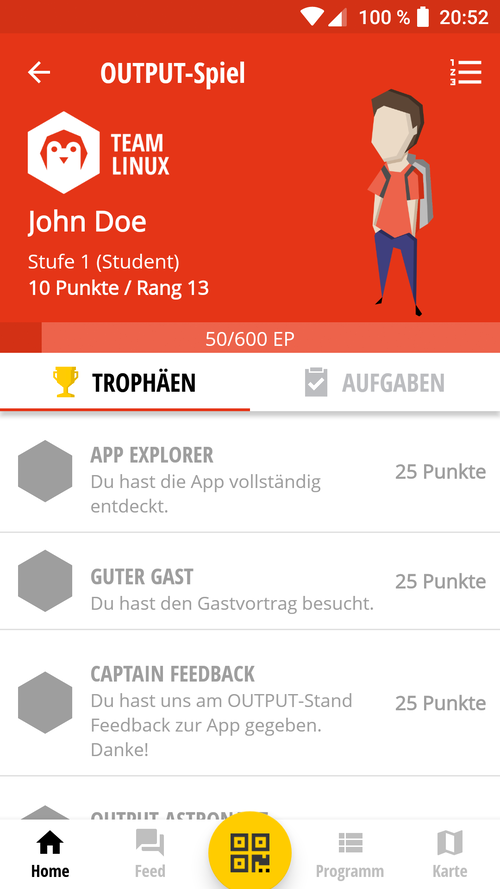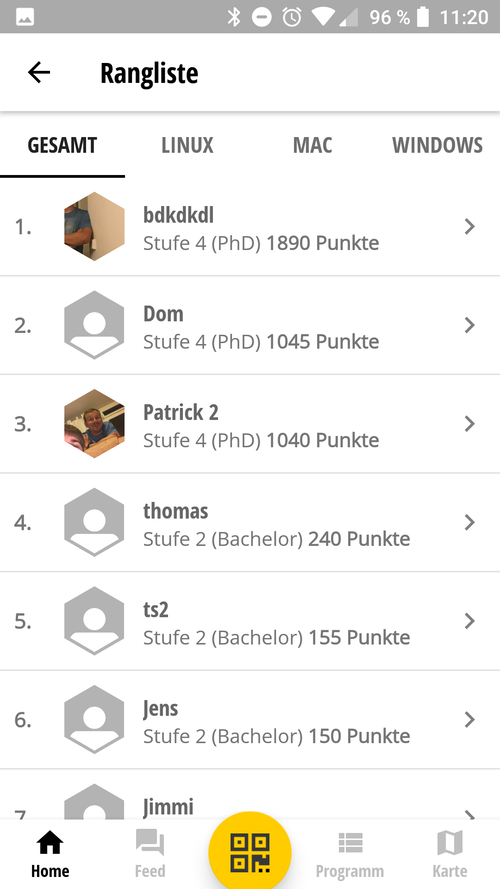 As an exhibitor
The exhibitors of the stands decide independently, what they reward for. For example the solution of a given task at the stand or a longer informational talk about the project.

The necessary QR-Code is provided on a business card at the information point. They should not be placed publically and only be shown to the to-be-rewarded. For talks or workshops, the QR-Code should be displayed on a slide at the end. These will also be supplied beforehand